Journal
Clinical Pediatric Endocrinology
Clinical Pediatric Endocrinology is the official Journal of JSPE and is published quarterly. Articles are accepted for publication on the understanding that they contribute to the progress of the field of clinical endocrinology and metabolism from infancy through adolescence and that they have not been or will not be published elsewhere except in an abstract form.
 We would like to invite you to contribute a research article for publication in CPE. As of December 2014, the entire submission and review process has been transferred to an online system. Please go to the link and log in, or create a new account for submission, if you do not have an account.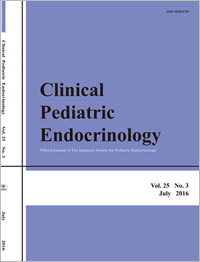 You can inspect Clinical Pediatric
Endocrinology at Homepage of Japan Science and Technology
Information Aggregator, Electronic (J-STAGE)
Instructions for Authors(https://www.jstage.jst.go.jp/browse/cpe)

Clinical Pediatric Endocrinology is in PMC.The journal available for
inspection in Pub Med is from Vol. 18 No. 3 (Jul 2009) to the latest.